Geumsu mountain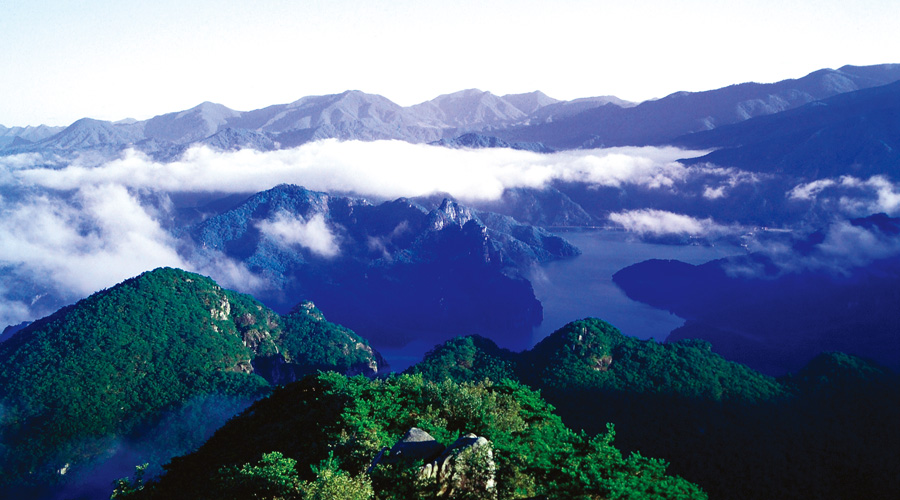 'Geumsu Mountain' which the name was made by 'Twegye Iiwhang', its original name of Geumsu Mountain (1,015.8m) is 'Baekun Mountain'. But Twegye liwhang (1501 ~ 1570) who was governor of Danyang in Chosun changed this name to 'Geumsu Mountain' because this mountain is beautiful like embroidered silk when the trees on this mountain turns red. The name of the town in the south of Geumsu Mountain is 'Baekun-dong' and this name is based on the name of old mountain(Baekun Mountain). Geumsu Mountain is a long mountain chain. In case of north, this mountain spreads to Jecheon, in case of south, this mountain spreads to Danyang-gun Jeoksung-myeon Malmok Mountain (720m). The main ridge, there are Jaksung Mountain (848m), Dong Mountain (896.2), Malmok Mountain and so on. They are 700~800m and sites which spread to the west are Jungbong (885.6m), Sinsunbong (845.3m), Underworld-bong (596m), Mangduckbong (926m) and so on. There are big and beautiful mountains.
In the valley which meets 'Adaengigol' in the south, 'Jungnamgol', Yongdam waterfall and Taoist fairy waterfall are located. Yongdam waterfall and Taoist fairy waterfall are based on legend and this legend is,,, in the old days, 'Ju' King ordered his courtiers to find this waterfall because he used the waterfall for washing his face. In 'Sang waterfall', 'Jung waterfall' and 'Ha waterfall' which belongs to 'Taoist fairy waterfall', a blue dragon lived(in this waterfall). Courtiers of 'Ju' country knew well about this famous mountain and he wanted to place a tomb stone and did it but blue dragon became upset and this dragon broke the rock and ascended to heaven.
Starting point of Geumsu Mountain which is located at the boundary of Jecheon-city and Danyang-gun is Danyang-gun Jeoksung-myeon Sang-li Sanghak town. Transportation at this place is convenient but the way which is made of simple ridges is all and this way is shortest way.
But Jecheon Susan-myeon Sangcheon-li Baekun-dong is also the starting point and this course has splendid sights. Sangcheon-li Baekun-dong town is famous for Corni in Spring. Geumsu Mountain is risen like lion who raises his head to the end point of the ridge from Mangduck-bong which is connected to the right side. This mountain is shown from Baekun-dong town which is overgrown with old Cornis. In steep 'Amreung' which is connected to Mangduck-bong, green pine trees are growing. If the maples begin to turn red, like the name of the mountain, the sight which shows beautiful nature like embroidered with silk is gorgeous. Also, different from Jeoksung-myeon Sanghak town which is another starting point, this course has cold waterfalls and valleys and this course is the right hiking course in Summer.
Sangcheon-li section (Sangcheon-li ∼ Yongdam waterfall ∼ Top of the mountain ∼ Sanghak town) Total time for hiking: 3 hours 20 minutes Time for sections: Sangcheon-li Baekun-dong - (10 minutes) - Bomunjeongsa - (5 minutes) - Three-way intersection - (5 minutes) - Yongdam waterfall - (1 hour 40 minutes) - Geumsu mountain - (10 minutes) - Salbawi hill -(1 hour 10 minutes) - Sanghak town three-way intersection
Go to the road of Baekun-dong town next to Sangcheon rest area and then follow the farm's alley, then you can find 'Bomunjeongsa' which was established now a days. If you follow the bank around a field behind 'Bomunjeongsa', you can find the monument about Youngdam waterfall. Trail is divided into 2 parts, left side is the way to Yongdam waterfall passing Mangduck-bong and going up to the top of this mountain, and the right side is following the valley to the top of this mountain. Section of Mangduck-bong is only possible to go through the right way because this section is the restricted area of the mountain. Yongdam waterfall is about 200m following the left way at three-way intersection which has monument. On a large rock, Yongdam waterfall is plunging from 30m height and this waterfall is considered as the beautiful sight of Geumsu Mountain. In this place, you can prepare drinking water and you can go up to Amreung which is connected to the back of the left waterfall. Some sections are steep. But you can see ropes which are installed at the section of steep slope. If you go up the steep rocks for 10 minutes, you can find observatory which shows Yongdam waterfall. If you stand on this rock (observatory), you can see Yongdam waterfall and 'Taoist fairy waterfall' which is on Yongdam waterfall.
The trail is connected to a steep 'Amreung'. Around Amreung, the lakeside with fresh wind and observatory(rock) are located. Around this observatory, old pine trees are located and this sight is tasteful. And if you see at the west side, rocks which are rolled down from Mangduck-bong and pine trees with their roots deep down makes up magnificent view. Over here, you can see Cheongpoong lake. In this Amreung, you can find 'JJokduri rock' and 'Eagle rock'. To the southern side, Woraksan Mountain Youngbong is seen sharply.
Top of the Geumsu Mountain consists of narrow Ambong, because of this, someone made iron bars. Notice on the top of Ambong, which shows this place as the peak is located by Danyang Simji Mountaineering Club.
Top of the Geumsu Mountain shows marvelous view. In the north, you can see Sinsun-bong which is the main peak of Geumsu Mountain and Dong Mountain with Neung gang valley. Behind Mangduck-bong, you can see the lakeside with a fresh wind. To the south, you can faintly see Weolak Mountain, Daemi Mountain and Whangjeong Mountain. Under this, you can see Cheongpoong cultural assets town and cruise ship at the lakeside. In the east, you can see Cement mine of Danyang and roof of observatory of Sobaek Mountain Yeonwha-bong.
If you pass 'Ambong' which has metal steps, you can find 'Sal rock hill' which meet with the trail from Sanghak town. If you pass this hill, you can see a sharp Ambong which is connected to the top of this mountain and you can find metal steps and iron bars.
If you go down to the southern place from top of the mountain by metal steps, flat 'Neoruk rock' is located among the forests where you can rest or eat lunch in this place.
If you go down through the ridge which spreads to southern side for 10 minutes, you can find a tomb which shows good eastern view. After you go up to 'Sal rock hill', you can go back to 'Sangcheon-li Baekun-dong', or 'Jeoksung-myeon Sang-li Sanghak town.'